Our first ever Part-Time Coding Bootcamp is currently 6 weeks in - that's one quarter of the way through! When we first launched our flexible 24-week Bootcamp we knew that there would be some differences between the two models, but we were adamant that we would deliver the same course, the same material and the same outcomes as students receive on our Full-Time Bootcamp.
Now we're beginning to see how the course is panning out and how brilliantly our students are progressing, we decided it was a good time to talk a bit more about some of the decisions we made in designing the course, and what might be in store for the future.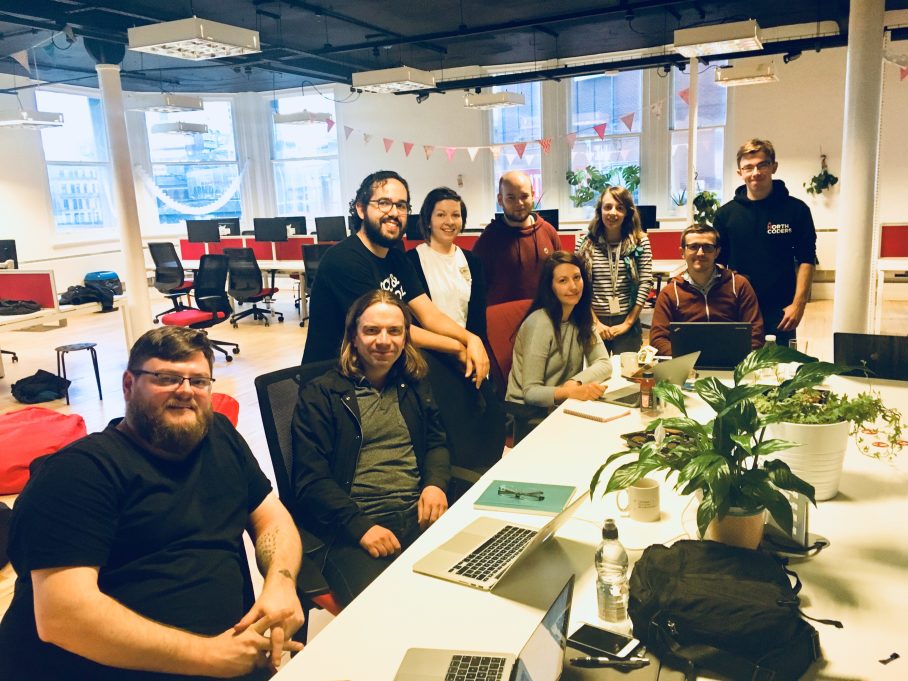 A Saturday session with some of our Part-Time students and mentors!
Flexible Hours on Campus
Speaking to applicants, we realised people who wanted to study part-time were usually doing so because of various other commitments they either couldn't or didn't want to drop for 3 months. As such, we realised that asking people to attend fixed sessions on-site would be difficult. We decided to therefore offer a range of sessions that students can attend, where they will be guaranteed support from 1 or more dedicated tutors.
This model is working well. There is a high, sometimes 1-to-1, student:tutor ratio at these sessions, meaning students benefit from close support and we can keep a close eye on how they are progressing.
Recorded Lectures
To maximise the value of the time students spend with tutors on campus and to avoid the problem of people having different schedules, we decided to record lectures and let students watch them in their own time. On Saturdays, we sometimes watch lectures together and pause to discuss things as they come up, which we think works well.
Recording all the lectures also meant we ended up with a valuable resource for Full-Time students, who may want to check back over certain topics or are ill for a day, etc. Becoming video stars as well as coding ninjas (cringe) was a bit of a change for our lecturers but we have now all come to terms with our seeing/hearing our faces/voices on camera, and know we have great career prospects in showbiz if this coding thing all falls through..!
Mentorship
One thing we didn't want to sacrifice was close, individualised support for our Part-Time students. Our Full-Time students all have a tutor who acts as a mentor, who they meet with weekly. This is someone they can chat to generally as well as get help with specific problems, and who can offer emotional, time-management, and study skill support as well as technical advice and code review.
As well as the tutors who are around during the sessions, we decided to pair Part-Time students up with individual mentors - Northcoders graduates who are now working in industry. We discovered a huge amount of goodwill from our wonderful graduates, who want to help give back and guide others in their journey. We thought that harnessing this goodwill would be good for everyone!
In the future we will continue to open up mentoring opportunities to graduates, but we will help them better organise their time by offering 'blocks' of mentoring where mentors commit to being on campus to mentor students during a particular block (Core JavaScript, Node & Back End, or Front End). This will also mean that our graduates can 'specialise' by mentoring in the technologies that they work in.
Content
The content of our Part-Time and Full-Time Bootcamps is exactly the same! We use the same technologies and frameworks, and teach the same concepts, with the same attention to best practices and agile methodologies. In one or two cases, we jiggled the content around slightly so that students have rougly-equal amounts of video content to digest each week, but apart from that we're pleased by now neatly we've been able to package our curriculum into weekly sprints.
Talking of sprints - which is what we call each unit of learning and practice that students complete during the course - we have by and large retained the same sprints across both courses. There are some 'classics' which have been in the curriculum for a long time - evolving, of course - and it's great to see Northcoders graduates coming back and helping new students with sprints that they themselves completed when they were on the course!
Northcasts
After researching already-existing solutions for delivering our recorded lectures, we took the decision to build a video platform of our own. It is a simple application that allows students to log in via Github, and then checks which Github team they are in. They then have access to the content for the current and previous weeks. The platform allows us to keep track of who's been watching what, and to control the release of content so that students progress steadily at the pace we set for them. We think that a problem when it comes to recorded content is having access to everything at once, which can be exciting at first, but only at first. By waiting for the next week's learning, students cannot race ahead, are forced to spend any free time making sure they've fully understood the last topic, and are not demotivated by seeing a seemingly insurmountable pile of work ahead of them, with no surprises in store.
Kataday Saturdays!
This brings us on to Kataday Saturday, a pun I'm unreasonably proud of. We think that the morning katas the Full-Time students complete every morning throughout the Bootcamp are hugely important in honing their problem solving and testing skills, and we replicate this on the Part-Time Bootcamp with 2 katas released every Saturday morning.
Students generally spend the first couple of hours of their Saturday session on campus solving the katas (either alone, pairing or with their mentor) and then at around lunchtime we usually make a start on the new week's learning by watching a couple of videos together and making a start on the sprint.
If you are interested in applying for our Full-Time or Part-Time Bootcamp, click here!
by Harriet Ryder
---
Harriet is the Head of Community at Northcoders